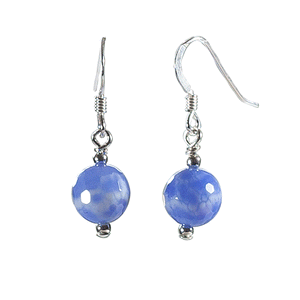 Blue Fire Agate, Sterling Silver Earrings
Regular price $0.00 CAD Sale
These blue fire agate and sterling silver earrings have found their forever home. We wanted to park them in the gallery though so you could see some other design options available for custom orders.
These Blue Fire Agate and Sterling Silver Earrings are simple in design but powerful in their calming strength. If you're nervous or a bit anxious about an upcoming event or a meeting with someone, for example, these are a great choice to wear. 


To be honest, I fell in love with the beads due to their beautiful blue sky colouring. Mix that with the white and it's like wearing a beautiful summer day. How can you not feel happy wearing that combination all day long? 

Details: 

Blue Fire Agate focal beads
.925 sterling silver beads, components, and ear wires
Length: 27mm (1.06") 

from the top of the ear wire to the bottom of the design